Our Philosophy
Our Philosophy
Since 1999 Flags4Golf has been creating and designing unique sponsorship tools to support nonprofit organizations in their efforts to raise more money at golf outings.
Here's how… we have a variety of product choices that we can custom emblazon your sponsors logo on so they can be seen by your participants multiple times during the day. Simply put; the more repetitions, the more you can increase the sponsors investment to be that exclusive sponsor.

Our Ideal Customer
Is every customer!! We invite you to consider adding any of the branding opportunities below to your current mix of sponsorships you currently offer. There is no precommittment to buy anything until that sponsorship is sold so there is no financial risk.
We encourage you to offer it up and see who wants to step up and write a bigger check for the increased branding they provide.
Call or email us and ask us how we can support and implement any one of our sponsorship tools. Our commitment is to help you exceed your fundraising goals.
Pin Flags






• Our unique pin flags have a stiff wire embedded along the top of the flag to keep the flag horizontal the entire time.
• Great visibility for the sponsors logo on both sides of the flag.
• We'll put photos, logos or any image you like at no extra charge.
• Our flags can be washed and re-used year after year for repeat sponsors, so they are cost-effective and environmentally sound.
More Information
Cart Banners
• Emblazoned sponsor logos are displayed across the entire windshield of the golf cart. Or on the hood for those that don't have windshields.
• Especially at registration and throughout the day the sponsors logo is front and center to all the participants.
• Most charities raise the most money over all other sponsorships because of the visibility to the sponsor. So make sure you price this accordingly.
• Our easy install and removal makes this cart banner loved by every golf course staff member as it leaves no glue or residue like the others. Install time: 72 carts, one person, 30 minutes.
More Information
Trivia Contest
• Who doesn't love Trivia and testing your knowledge?
• In this fun interactive contest your golfers team will be given a custom scorecard to choose the answers in a multiple choice format.
• We encourge you to ask questions that pertain to your charity and where the fundraising dollars are going. Great way to educate your golfers on your charity.
• Garner a Trivia Contest Sponsor. 18 holes that get surrounded by the golfer to answer the question. Great visibility.
• And everyone has a chance to win… no golfing skill required.
More Information
Branded Tee Markers
• Just like the pros. Custom tented tee markers starts your golfer between these two sponsored signs.
• Printed on both sides so the golfers can see the sign coming and going off the tee box.
• All 18 holes provide strong branding recognition for this sponsorship throughout the day.
• If you have lots of ladies at the event consider a sponsor for the ladies tees as well.
More Information
150 Yard Marker Sponsor
With this sponsorship we suggest offering 14 large easel board signs that will be placed in front of the barber poles so that every golfer will see it not only from the tee box on par 4's but will also pass by them as they play the hole.
More Information
Branded Tee Signs
• Go big or go home!! Our tee signs measure 18″ high x 32″ long giving your sponsor a professional look and worthy of their sponsorship donation.
• We provide a ground mount system so that the wind will not move or flap the sign in the wind making sure your sponsor is well represented.
• Also encourage no year placed in the design of the sign so you can reuse year after year as many hole sponsors repeat their sponsorship.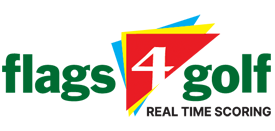 Live Golf Scoring for Charity and Corporate Golf Tournaments
Turn On,Tee Off, Enjoy!
Easy And Simple To Use.
No Download Required And Available On Any Mobile Device Or IPad
Designed for Charity and Corporate Golf Events
The purpose of this application is to bring technology of real time golfing scoring, sponsorship recognition, social engagement and silent auction capabilities into your golf event.
More Information
SPONSORSHIP RECOGNITION
This feature gives the golf tournament the ability to recognize title sponsors, premium sponsors, scoring sponsors and even hole sponsors. We encourage you to garner a live scoring sponsor to help your event raise more money.
BIRDIE COUNTER
A new and unique feature has been added to the scoring platform. Our platform keeps track of every birdie(and eagles) made for the day from all groups combined. Present this opportunity and garner an exclusive birdie(eagle) counter sponsor. We even have a pledge per birdie option with our new BIRDIEUP platform. Please ask us for more details!.
GAME FUN!
Talk some Smack! – We have included the ability to send some encouraging messages to your fellow golfers during the round with our chat option feature.
Since everyone is using their own phone it keeps everyone engaged during the day and we can add your silent auction page or link never having to leave our platform.
NO APP DOWNLOAD
One of the major advantages is that the scoring platform works on any type of device. Each participant will receive a text message outlining the date and
time for their tee off before the event with a link into the live scoring platform just before they tee off.
Napolean Hill
(October 26, 1883 – November 8, 1970)
American Author – earliest producers of the modern
genre of personal success literature.
"It is literally true that you can succeed best and quickest by helping others succeed."
"A positive mind finds a way it can be done; A negative mind looks for all the ways it can't be done."
Client Testimonials
Don't take our word for it – here's what our clients say:
Flags4Golf and Mike Kerr are a delight to work with. We have worked with them for a few years for various projects including our golf outing. Then COVID hit and Mike was able to fulfill all of our needs.
From encouraging lawn signs to 14 foot "Heroes work here" banners – his work is impeccable and swift.
From Vancouver, we can receive the finished product in no time. I have recommended him to several people.
Pam Yosh
Garnet Health Foundation
Middletown, NY
"I've known Mike for many years and he's one of the real good guys in our industry. Great products and never hesitate to recommend him to all our events here at Northview.

His cart banners are a dream as they leave no glue or residue on our windshields so they are so easy to install, long gone are the days of peel and stick. Highly endorse."
Daryl Allercott
Tournament Director
Northview Golf & Country Club
Vancouver, BC Canada
I have been working with Flags4Golf for 5 years and his service level is amazing. As an golf event planner and manager of 5 events per year, we can't have mistakes or miss any signage for any of our sponsors. Flags4Golf attention to detail reduces the risk of issues plus the quality of print and design is extremly important for my clients.
I strongly recomend Mike for all your sponsorship recognition needs.
Troy N Slogocki
iScoreGolf
Vancouver, BC